My Vada Pav Love Story
Rashi Bhargava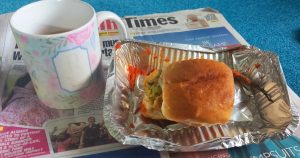 23rd Sept,2022
Dear Vada Pav
Thanks for surviving the delayed flight and reaching home safely with me. You were my gift to Dr. S 🙂 from the city of dreams Mumbai.
Of course, as it was expected 😉 the next few hours as I unpacked, I couldn't resist the temptation of having one of your twin brothers. The sight of vada fried to perfection stuffed between pav with Lahsun Sukhi Chutney, topped with green chutney and fried green chilly was difficult to resist. I failed and let my greed overcome my love for my senior friend for whom I had got you and your twin packed from Naashto.
Can any snack be better than this? Combined with homemade cutting chai you were the balm to my tiring journey yesterday. Your sweet and spicy taste was enough to satiate my mid night hunger. I am glad before I ended my long day my belly was full of love, of course, because of you. Shhh!!! let's keep this mid night affair secret from my Food Coach Deepta 😉
You are loved not just by me but by crazy junior friends too. You are easy on the pocket. You are my guilty pleasure- yesterday, today, tomorrow and for days to come. No one needs any occasion to eat you.
We get you in Delhi too. But the taste of Vada Pav from Mumbai is any day better 🙂 
See you soon. Love….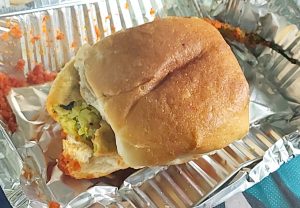 Rashibrockstar
Vada Pav Fan