My Laultra Diary
Rashi Bhargava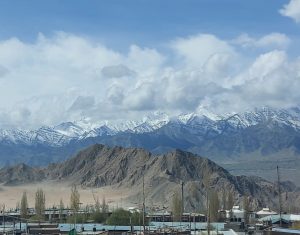 14th May,2022
I first came to know about Laultra in the first edition of iRun festival in July 2017, where the organizers showed a documentary on one of the toughest foot races in the World. I was left in awe and was dazzled by the run and the superhuman runners who run such insane distances in tough terrain and conditions. The run has been happening every year in August for more than a decade.
Though I didn't start running after the festival 😊, but the seeds were sown, and it was just a matter of time before I took the plunge into the world of running. The athlete in you never dies, even when you had stopped playing active sports for decades.
When I started my running journey under a guidance, Laultra was not my goal. I was far away from being fit and short distance was also a task. But I would always wonder about these ultra runs and the runners who run such long distances. What makes an Ultra Runner? Are they from Mars 😉 How they prepare for such runs and what makes them show up daily despite the pain and aches which are best friends of a runner.
Our lead coach/mentor Dr. Rajat Chauhan, who is the race director of Laultra, repeatedly used to talk about Laultra and the runners who ran distances of 55,111,222,333,555km. He used to entertain us with stories of the triumph of ordinary individuals over impossible and how they were writing and rewriting their own golden story in their running journey. Of course, there were heartbreaking stories about DNF too sprinkled in between.
Dr. Rajat wanted us amateurs to have the feel of the toughest foot race and enjoy the mesmerizing Ladakh and its people. So, for the first time in the history of Laultra, he introduced categories like 11k,22k,33k. I trained for 11k, which for a non-serious runner like me was a gigantic leap 😊 I landed in Leh on the bright sunny morning of 16th April. Little did I know it was just the start of 76 hours and 40 minutes of ordeal. I couldn't acclimatize and had to return. I had the dubious distinction of being the only runner whose campaign ended even before the start line. Probably the first in the history of Laultra😉
Though my 76 hours and 40 minutes was an ordeal, but still couldn't help gazing at the turquoise blue sky of Leh and bright night sky illuminated with stars while gasping for breath and fighting the high-altitude sickness. As I reflected, I concluded that such beauty had been reserved for remote and dangerous places, and that nature has good reasons for demanding special sacrifices and preparations from those who dare to think of it. These sacrifices would require the runners to show thorough preparation, consistency and discipline, a little room for error. Every step a runner takes at such high-altitude is a test.
And so, every year, it is from these dry cold desert cauldrons emerge the individual race stories, the untold personal journeys of runners that often begin beyond the start line and continue past the finish. It is the recollections which give an insight into the appeal of the challenge of running such insane distances in tough and rough conditions, the one that lures ordinary individuals into the dry, cold high-altitude desert of Ladakh to endure such hardships and to be rewarded by such an achievement.
I bow down to all the individuals for even standing at the start line. There is so much to learn from each one of them. Each runner must have his/her motive for taking on such tough run and would have overcome his/her demons, barriers and doubts. It takes guts and courage to even take the first step.