Hope is a Choice
Rashi Bhargava
18th Feb,2021
Happiness is a choice,no matter however harsh your circumstances are. Valuable lesson learnt from the residents of shelter home run by NGO Earth Saviours. Residents abandoned by their own blood for reasons best known to them. With so much love and warmth they welcomed me and my friend Karthik on our recent visit to the shelter home to commemorate my Mom's second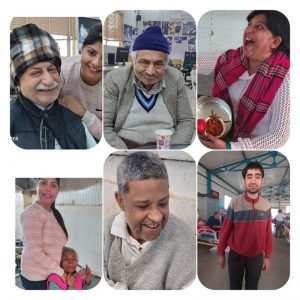 death anniversary.
Is there any magic formula to be happy? Or one particular way of being happy? Is there a secret recipe on the back of the Lucky Charms box?
No, Happiness is a choice and that control is in our hands. We are happy the day we decide to be happy. There is a lot of power in realizing that we are in charge of our own happiness. No one else gets to call the shots. Our friends and family can be a part of our "happiness team" but they don't get to decide how to play the game or what that game even looks like.
These brave souls decided to be happy and for them Hope is a decision they took to enjoy what life has to give rather than complain and say why me?