In Search of Solace
Rashi Bhargava
My Third Thinking week break couldn't have come at the right time. I was in pain and trying to overcome a traumatic end to my therapeutic relationship. I was angry, hurt and sad. Forgiveness was not easy. Since covid situation was much better, this time I decided to travel out of city to my favourite place Mountains and spend few days in midst of nature.
Since childhood I have loved mountains and have been fascinated by the topography, their beauty, grandeur, size and magnificence. Come to think of it, there is something invigorating, soul-awakening, renewing, refreshing, and restoring, about Mountains.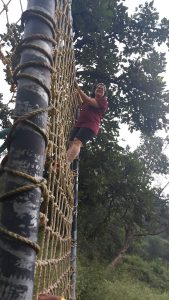 Nature has amazing restorative and energizing qualities. When you spend time with nature it's like returning to roots and aligning yourselves with Nature. Our body, mind and soul are revived and renewed when we spend time in wild. Nature is endless storehouse of riches. The revitalizing light and warmth of the sun, fresh air, greenery around are our treasure towers to revival. In mad rush of our daily grind, we have forgotten that source of our life force is nature, and we are dependent on nature.
My third think week proved to be turning point on work and personal front. I came to this beautiful resort called Vanvasa with lot of emotional baggage. The resort is spread over 30 acres in Kalagarh Tiger Reserve Division, Landsdowne at an altitude of 3250 feet. Located over hilltop overlooking layers of Kanda Hills one gets mesmerising view of the mountains. Clean air, breath taking sunrise, ever changing hues of sky all changed me and who knows its time for Rashi Bhargava Version 3. Came back with deep reflections and lessons learnt during my 7 days stay in middle of jungle with patchy mobile connectivity, no Wi-Fi and no televisions. I only had self as a company and my thoughts.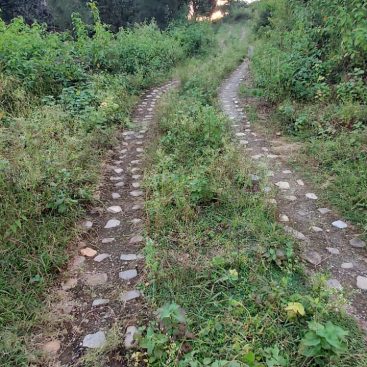 The stay was a visual treat to my senses. The resort is enveloped with dense forest on all sides. The long walks in wild/forest trails were rejuvenating and an opportunity to enjoy a full sensory bath. The magical sun rise, various colours, shades, patterns and hues all created a magical world for my eyes which I often use to take for granted. The scent of pine needles, musical notes of gushing river water, cool dry breeze allowed me time to reflect, observe things in silence. In between packed in, some rope climbing activities which uplifted my spirits and released much needed endorphins. In short all this was like taking a natural depressant 😊
What Mountains taught me?
People like me who work by Google calendar with everything scheduled minute by minute, the biggest lesson was that in Mountain's time stands still. Everything happens with the flow and people learn to go with the flow. Sometimes in life we just need to go with the flow instead of fretting and fuming when things and people don't work out our way.
When my life was reduced to basics -eating, relaxing, reading and enjoying simple gadget free recreation, my own stressors melted away. In our daily lives we put unnecessary demands on our minds and bodies that drain us, restrict our capacity to enjoy life. And that slowly starts affecting our day-to-day functioning.
I spent hours gazing at the mountains admiring their sheer size and beauty. The photographer in me did not leave any possible angle of capturing the grandeur of these majestic mountains. In front of Mountains, I and my problems felt both small and significant at the same time. The entire ecosystem handiwork of God worked so seamlessly with a purpose.Mountain tops are great place to give you 360-degree view of the world. I found that the important decisions I had to make and act upon, were easy to make on the mountains as it gave me a sense of perspective, holistic view of the world and its affairs. When you are struggling on the treacherous trail walk and worried you will slip into the gushing river, things in life just seem to make more sense, life takes on a whole new meaning and old paradigms disappear, giving you a clearer vision of life and purpose in the world.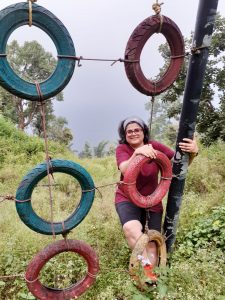 Surrounded by Nature and her habitants including wildlife, I realised that I was not alone, I was just a small cog of the same Universe as others. There is no space for EGO.
Sitting quietly, watching the ever-changing shades and colours of sky, birds chirping and looking for food, there was so much to learn about life. Most of us city people live in a bubble, but that bubble gets burst when we spend time in nature. Every living thing affects every other living being and are important part of this Universe playing our respective roles. There is no "I" only "We". We should cherish the bonds, other living beings and preserve nature, the very source of our existence.
We humans think we have upper hand, and we can control everything. Pandemic showed how wrong we have been thinking this. Hiking to see a hidden waterfall I had only one goal, to reach the spot safely and return with wonderful memories. I was not sure how my body will take 18 kms of hike in mountains. All I knew was to take one step at a time, soak in the beauty and splendour on the way and be grateful for such wonderous sights and things that went right for me instead of dwelling upon things that went wrong.
Every day in Mountains is new, means HOPE. The skyline changes in moments, even the sun rise is different every day. God gives us a new day every day, no point in living under regrets and hurt. If one day was bad, you have another brand-new day to make things right.
Instead of changing people or my environment, I should embrace myself the way the mountains embraced me in their arms with grace, love and strength.
Mountains most of the times are forgiving. When my mountains within were not moving and I was seething in anger, hurt even after a month. I reflected. Forgiveness of others is a necessary pre-requisite to move forward in life. With every step-in forgiveness, I moved a step towards healing.