A walk through Art al fresco in Delhi
Rashi Bhargava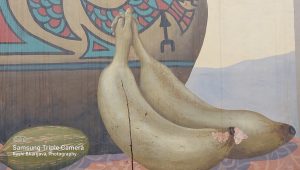 Delhi is where I was raised. This is not my home. When I was six years old, my family moved to this city, and it became my new home. Since my first visit, I have been a devoted Delhi fan. After all, Delhi has given me some amazing friends for life.
Delhi is a historic city with a long and interesting history. Which city can boast of romancing various dynasties 😉 and witnessing the rise and fall of empires. It is one of the few cities of our country with a rich past, heritage, and rightly called a melting pot of diverse cultures. It's a lovely marriage of two cities: Purani Dilli and Lutyens' Delhi.
The city, on one hand, has the dubious distinction of being one of the most polluted cities in the world, on the other hand, is also one of the greenest cities in India. It's a city you can't help falling in love. I love exploring it again and again. And every time I end up discovering hidden gems and new treasures.
Faced with Dushyant's message regarding the two-hour walk he was conducting through the Lodhi Art District, I had no reason to say no this time. (He had been regular in sending messages about upcoming walks, ever since I did my first heritage walk, Purana Quila walk with INTACH where Dushyant was the lead)
I realized that I needed a break. Lodhi Art district had been on my bucket list for a long time. I had often seen the murals while driving through Lodhi Colony but never had a closer look at the murals.
Some facts:
Lodhi Art District in Lodhi Colony, which stretches between Khanna Market and Meharchand Market, is India's first art district, with murals by over 50 Indian and International artists.
Lodhi Colony was the last British housing estate and is an iconic architecture in Delhi's history. St+Art India Foundation invited 50 international street artists to create India's first art district, in 2015. (St+art India is a non-profit organization that is on a mission to make art accessible to everyone).
During the 120 minute walk, I saw approx. 17 murals not even 50% of what Lodhi Art District has to offer.
Sharing two of my favorite murals:
1.How is Global Warming by Gaia
Gaia explores the effects of greenhouse gases and global warming on society. Using the wall's arch, he positioned the Shish Gumbad, also known as the glass dome, in the exact center of the composition. A Victorian botanical garden plays with the idea of greenhouse gases behind it. Two hands that emerge from the water flank this pairing, representing hope and despair. The artist has painted one inflated globe and one deflated globe on either side of the wall to illustrate the effects of globalization on our planet.
2.Crazy Katha Twins by Harsh Raman
Using gestures and no words (a storytelling dance form from Kerala), Harsh Raman tries to merge Kathakali, with today's medium of no words–street art. The lower portion of the composition is painted with blackboard paint, allowing children in the neighborhood to express themselves through art. It's like an open canvas for children to explore their creativity.
Ever since the Art District has come, the Lodhi colony has undergone a transformation. I was amazed at how blank walls became canvasses for artists from around the world to collaborate and showcase their creativity. Vibrant reds and pinks, black, muted browns and greys, and a blinding expanse of yellow all peek out from behind lush trees. Each mural has a thought-provoking message for the world.
My decision not to cancel the walk because it was raining heavily early in the morning was a good one. The light drizzle that fell throughout our two-hour walk was just what we needed. A welcome respite from the oppressively hot and muggy conditions that had been plaguing Delhi.