A Walk in The Village: To See Real India
Rashi Bhargava
During my 3rd Think Week of this Financial Year, got the opportunity to walk through a village. The resort I was staying was located on off beaten track, far away from civilization on a hilltop. It was surrounded by dense forest giving breath taking 360-degree view of the nearby Kanda Hills. Initially, I was disappointed seeing my resort so far away. No WIFI, No Televisions, and patchy mobile connectivity. I was dreading my 1-week stay. I like my silences and solitude, but I also enjoy comforts of my gadgets 😊 Gadgets here were useless most of the time. After a point couldn't even use my laptop and had to write my observations and reflections on good old paper using pen instead of typing it away.
Seeing my disappointment, the Manager gave me some options. One of the suggestions was to take a walk in the nearby village called Jui/Juee with a population of 172 people spread over 142.51 hectares. The quaint village was free from hustle and bustle of megapolis like Delhi. Peaceful, calm, serene, and full of greenery. Villagers seemed happy living in small huts, slow paced life without trappings of cities. The habitants were great believers in simplicity and sincerity in human relationships which I found in my interactions with Vidya, Bimla Devi, Godambhari Devi (Bestower of the planet's most contagious smile who welcomed me so warmly) and Sharda Devi.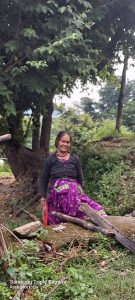 I was amazed how my country is such a magical place that touches on every sense. Indian villages even today capture real spirit of India. There was exhilarating sensory overload when I walked through Jui/Juee. Unspoilt by tourist influx. The nearest town was Kotdwar (Gateway to Garhwal) good 60-65 kms away, so far away with unpaved roads laden with colourful flowers on both sides, connectivity an issue, yet I found the locals happy and smiling. They were far away from basic amenities but one thing that was in abundance was love and happiness. To give some sense there is only one ration shop for daily purchases, only two buses ply from here to the nearest town every day. If they miss the bus, they must walk steep unpaved road for 3.5 kms to catch public transport.
Time seemed to stand still in Juee. No Cars, no traffic, no pollution, just nature. The walk taught me I need to slow down, relax, and reflect. The village scene couldn't have been more bucolic. Rays of morning sun scattering itself to the limitless horizon. Cows and goats grazing, beautiful colurful sarees drying on a charpoy, intoxicating smell of local food, I never felt so alive. Long low concrete houses with Kuccha Pukka huts overlooked verdant terraces, narrow pathways spilling down the steep hillside, lumpy with haystacks and firewood. Well-tended patched vegetable plots growing Lauki, Kaddu, Pyaaz, Aloo, ginger and Ragi.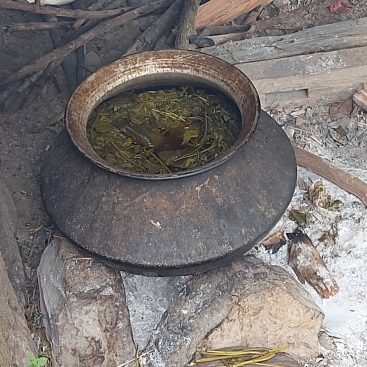 Apart from locals, I encountered cheeky, black-faced langurs, mountain dogs, wealth of birds and an infectiously languid atmosphere. I found that in the people of Juee, they were more in connection with the feelings of emotions in themselves. I was blown away by the kindness of locals. The 1-hour walk gave me an insight into traditional rural India. After the walk-through village and numerous interactions with the locals, I can safely say I walked away from the village with unique stories and reflections. The walk happened by chance and not by my own design. I guess I was destined to walk through Juee.